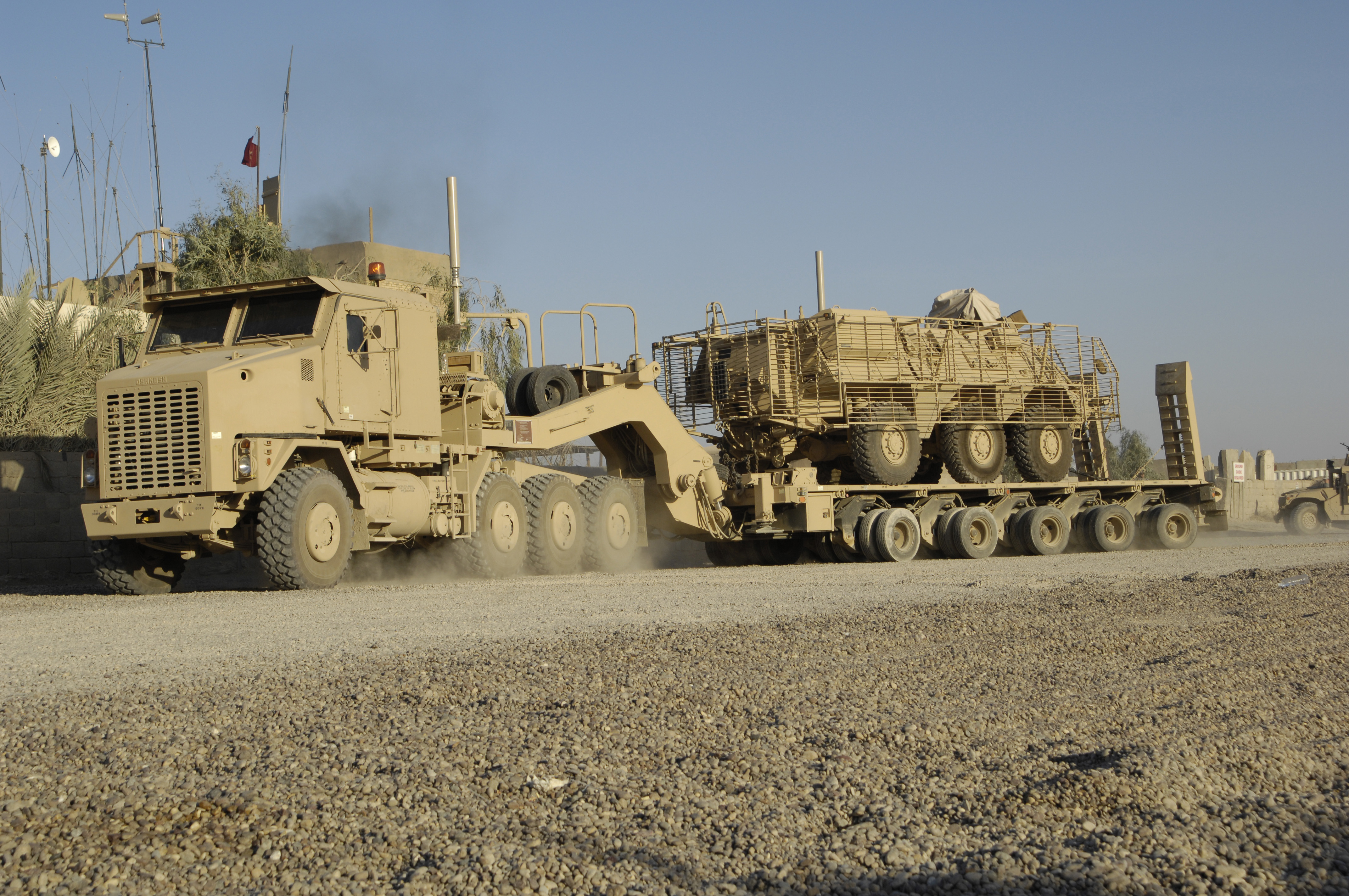 What is heavy equipment? Heavy equipment can mean a lot of different kinds of equipment. Some that you may be familiar with are heavy construction equipment like front end loaders, graders, asphalt machines, etc. These can also mean heavy duty mining equipment. It doesn't stop there. Heavy equipment can also be large on site generators, storage bins, portable offices, and huge tanks, just to name a few.
So how can you get this equipment from point A to point B? You can't just drive a heavy loader, excavator, or asphalt machine on main roads. Not only will it waste a lot of fuel for the company, but they are slow, and take up a lot of room. Some of this equipment can tear up the road as well. Truck transport is the most popular way of cargo shipping, whether it's a large container, portable shop, or other heavy equipment. So how does this work?
Usually the company needing the transportation has a trucking company on hand when they need their heavy equipment moved from one place to another. There are many transport companies that specialize in moving heavy equipment. They may have low boy trailers to haul construction equipment, or trailers and tractors with multiple axles, heavy duty suspension, and re enforced steel construction to handle hundreds of thousands of pounds of weight. They also have guide vehicles on hand. These vehicles usually travel ahead of the transport to make sure the road is clear, and behind the vehicle at a distance to warn other travelers that they are approaching heavy equipment transport.
How these pieces of equipment are transported really depends on the company and piece of equipment. Sometimes the shipping company shows up with their own trailers, and the equipment is loaded with a crane or the piece is driven onto the trailer. In other cases the company already has the equipment loaded, and a driver with a heavy duty tractor pulls up and connects to the trailer.
Safety is always first when it comes to heavy equipment transportation. If the transport company has their own trailers, the driver comes prepared with enough chains to secure the equipment, and does it all themselves. Securing the load often requires truck tarps, especially when hauling in severe weather, or when the equipment is of a delicate nature. Tarps are used to cover all the equipment, then secured down like the rest of the equipment. The driver does a safety inspection, then heads out with the load.
Because tarps are a vital component to heavy equipment transport, they are often the most used and have to be replaced on a regular basis. The problem is that you can't just buy heavy duty truck tarps and your local hardware or home improvement store. These tarps are sometimes made of canvas, and if they're plastic, they're much thicker than your normal tarps. In addition, the tarps have to be large, to be able to cover the height, the width, and the length of the equipment being transported. They need a lot of eyelets, or even have their own clasps for securing them down.
If you are looking for high quality tarps for heavy equipment transport, then there is one online resource you can turn too. This company is called Mytee Products. They offer an enormous selection of tarps, tie downs, and everything else you may need to secure your load, no matter how big or small it may be. They offer low prices, and can ship directly to you across the US and Canada. So when you need a tarp or other safety equipment, then turn to the pros at myteeproducts.com.
So now you know how heavy equipment transport works. You can find a number of resources for more information online.