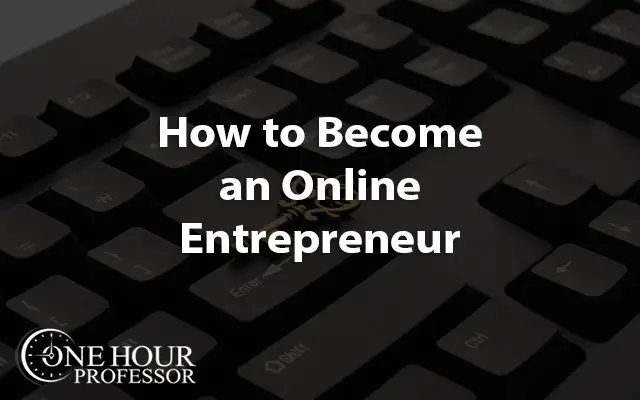 What does it mean to become an online entrepreneur? The basic definition of the word means anyone who takes a risk in business, be it investing in your own business, someone elses, and takes control of the operation in some fashion. This really means that anyone who has ever turned an idea for a product or service into reality is an entrepreneur. Even if you went through a number of different ideas, some that may have worked, others that failed, it doesn't matter, you're still a trendsetter.
In order to become successful online is whatever venture you choose, there are some things you need. The very first one is an idea, a product or a service. You need a positive attitude, and a clear goal in mind. You can't let anyone tell you that you won't succeed. You need a great website, great internet marketing, and promote your brand whenever you can.
It's not enough just to have a good website. Many companies already do, but still don't succeed. Nobody is coming to their site, and worst of all no one is buying. It's not that they don't have a good product or service, but they simply don't have a good marketing strategy. Maybe they're not on top of search engines, maybe they don't have a strong social media presence. It's possible their website isn't presented well. All of these things and more combine to prevent them from moving to the next level.
You need a great start, and most people starting out in business don't know how to utilized their website's potential. Even well seasoned entrepreneurs know when to leave some details up to the experts. It takes money to make money, and utilizing the right web hosting service is money well spent. A good website hosting company offers a number of services. They help you take your business ideas and develop a website that catches customer's eyes right away. They help you design a website that is well organize, secure, and is available on all the major mobile devices. They make it easy for you to adjust products and services as needed, and provide excellent customer service if you experience and problems. A good web host also offers SEO services, so that you not only get to the top of search engines, but stay there. When it comes to marketing, a good company thinks out of the box, setting up ads on the major social media websites. They help you with Youtube videos, anything that is going to put you on top of the game, get you the customers and the revenue you're looking for.
If you want to learn how to build a business online, tips and tricks are available on a great website. This site is Will Robins. A successful online entrepreneur, Will helps you effectively create a website. He walks you through the process of making money online no matter what kind of product or service you want to do. You will learn things like; What is Black and White Hat SEO? What are the best sales techniques used by the richest entrepreneurs? How to become a powerful CEO by learning the proper business management process. These are just a few of the many powerful tools you will learn to help make sure you succeed in any venture you start.
Don't forget it takes time and efforts on your part to make sure your business is a success. It doesn't happen overnight. Don't expect to see record profits right out of the gate, be patient and keep your positive attitude up. Never give up. You could be the next greatest name on the internet.