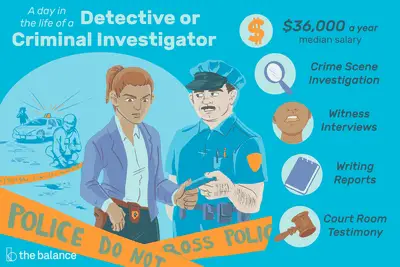 Interested in building a career as a detective or private investigator (PI)? Knowing what to expect and the types of qualifications that will be essential for a successful career can be determining for the outcome of your endeavors.
Being a private investigator is far from an easy job but it can be tremendously rewarding. Start by understanding the requirements and the specifics of the job better.
Training and Licensing
One thing is certain – you should never trust television, when trying to learn more about the job of the detective. TV shows make it seem incredibly easy for anyone to build a career and to become a successful private investigator.
You will need to train and acquire some knowledge first. This process will require hard work and a lot of commitment. Most of the states demand certain kind of certification. Learning more about the local requirements will help you pick the courses and program that will result in the issuing of a license.
Gain Some Experience
Experienced private investigators can charge a lot more than the beginners in the industry. Finding a job in a private investigation company is one of the best methods for obtaining the required practical knowledge.
View this period as a learning experience. The salary of a junior private investigator may be negligible but you will see what being this kind of professional is all about. You will sooner or later get the know-how and the contacts necessary for starting your own business and for being successful.
A good private investigator can earn anywhere between 40 and 100 dollars per hour of work. The charge will depend on the complexity of the case and the experience of the investigator. This remuneration is quite lucrative and it will justify all of your hard work.
Conducting Investigations and Building Your Popularity
In the beginning, you will need to come up with a marketing strategy. You will need to advertise in order to get clients. Determine your marketing budget and think about the channels and the creative approaches that will deliver the best results. Internet advertising may be a great possibility because it is highly targeted and relatively affordable.
Think about the purchase of equipment and technology that will make the task of obtaining essential information simpler. You need to use latest technology like cell phone spy and other apps. Smartphones can provide a lot of personal data, if you use the right software for the purpose. Read product reviews and pick the best technologies.
Finally, you should consider getting a firearm or another weapon for personal protection. Learn about state requirements and local regulations. The job of a private investigator could be dangerous but you should be protecting yourself in a fully legal way.
Benefits of being a Detective
Though it is a lot of hard work, the job of a detective can be highly rewarding.
There is no set schedule or office hours. Being the owner of your business gives you the freedom to work in any way you deem appropriate.
Each assignment will be highly exciting and different. If you like to solve mysteries and you are keen on helping people, being a detective will give you a lot of satisfaction. Though the job could be potentially dangerous, it is also going to be much more interesting than the regular office position.
If you are good at what you do, you will soon establish your reputation. Successful private investigators have solid businesses and they earn a lot. Remember, however, that you will be as good as your last investigation. Giving it 100 percent each time will be determining for building your business and reaping the benefits.