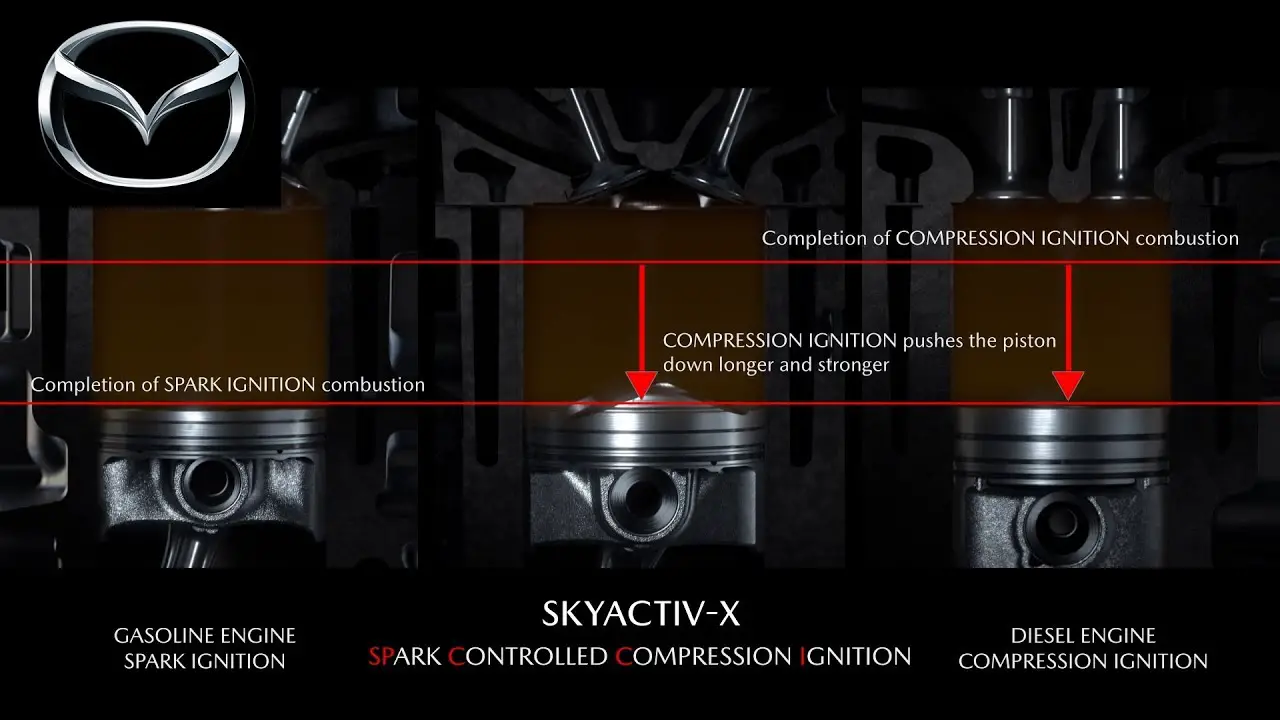 Mazda SKYACTIV technology is a strategy which has been developed by the Mazda Motor Corporation since 2011 in order to increase the fuel efficiency and engine output of their vehicles. Initial SKYACTIV technologies were specifically targeted upon developing more efficient engines and transmissions. After these advancements, Mazda commenced development on SKYACTIV technologies for their vehicles' bodies and chassis.
According to Mazda's Product Planning Executive Officer Kiyoshi Fujiwara;
Our goal is to improve fuel economy globally by 30%…And our answer is still the ICE (internal combustion engine). Our top priority is to radically improve this technology…the Mazda3's new 155-hp 2.0L Skyactiv gasoline 4-cyl. consumes 15% less fuel than its same-displacement predecessor, making mileage roughly equivalent to a conventional 2.2L diesel. Other improvements include 15% more torque, especially in the low-to-mid-rpm range, a 10% weight reduction and 30% less internal friction.
The current SKYACTIV technologies in production are as follows:
SKYACTIV-G: A direct-injection gasoline engine which can achieve the highest gasoline engine compression in the world of 14.0:1. This improved engine efficiency, due to high compression combustion, enables motorists to benefit from a 15% increase in both torque and fuel efficiency. This engine also utilises a 4-2-1 exhaust system, cavity pistons, and multi-hole injectors to efficiently facilitate its high compression ratio.
SKYACTIV-D: A technologically innovative diesel engine which has the lowest diesel engine compression ratio in the world of 14.0:1. Moreover, this diesel engine complies with global gas exhaust regulations without a dependency on costly nitrogen oxide after-treatment systems. Consequently, motorists can benefit from a 20% increase in torque and fuel efficiency.
SKYACTIV-MT: A manual transmission with a substantial 16% weight reduction and more compact dimensions. The length of the secondary shaft has been reduced by 20% and the reverse idle shaft has been removed; causing the overall gear train weight to have been reduced by approximately 3kg.
SKYACTIV-DRIVE: An automatic transmission which features all of the advantages of Mazda's pre-existing automatic, continuously variable and dual clutch transmissions, but with the additional benefit of a widened lock-up range to heighten torque transfer efficency. This technological addition siginificantly contributes to a 7% improvement in fuel economy.
SKYACTIV-CHASSIS: A lightweight chassis for improved driver comfort and security. By engineering a series of innovative front and rear suspension systems as well as electric power steering, Mazda have reduced the overall weight of the chassis by14%.
SKYACTIV-BODY: A lightweight body for all new Mazda models. By improving the rigidity by 30% and reducing the overall weight by 8%, Mazda have created a more fuel efficient body for their new models. Moreover, this new body meets the top level criteria for crash safety performance assessments in all global automotive markets.
These SKYACTIV technologies were initially introduced in the Mazda CX-5, followed by the Mazda6 and the Mazda3. Currently both the Mazda3 and Mazda6 ranges feature the 2.2-litre SKYACTIV-D 150ps engine, which is Euro6 emission compliant and offers a fuel efficiency of up to 72.4mpg (combined) and merely104g/km of CO2 emissions.
Ultimately, the implementation of these SKYACTIV technologies enable motorists to benefit from reduced CO2 emissions and cost-effective fuel economy. As Mazda continue to upgrade these SKYACTIV technologies, motorists can also benefit from improved aerodynamics, vehicle weight reduction, chassis developments and upgraded manual and automatic transmissions.