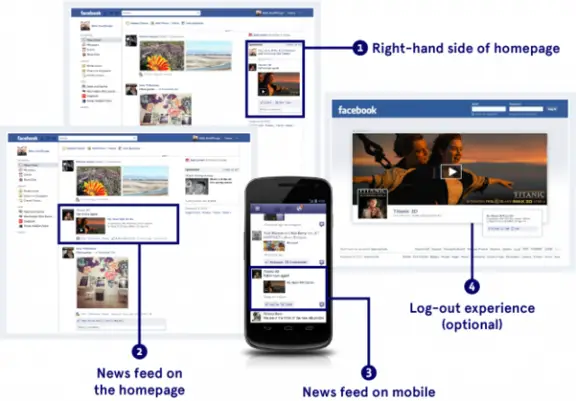 While you might know what Facebook ads are, you might not understand exactly how they work. After all, there is a chance that you've seen advertisements and wondered how that ended up being advertised on your profile. Chances are, the advertisement was targeted based on certain likes or you fell into an age and gender that was being targeted, even if it wasn't a match. That's because just like traditional forms of advertising you need test and optimize campaigns based on the target demographics that will respond best to your product or service.
All Facebook targeting is taken from your Facebook Profile information. The information that you put into this section, will determine what ads are displayed on your profile. As an advertiser, you can understand how critical this will be for your long term success. This is why you need to precise with your targeting. With more than 1,2 Billion Facebook users in the world, you need to ensure that you choose the right age, gender, education level and other factors that are going to benefit your advertising efforts.
For example, say you were looking to promote a horror film. You'd want to target people who have liked a movie that is similar in terms of subgenre, rather than promoting to everyone who might not be interested. That means you would purposely select targeted people and find the reach that your ad will have. A final number will typically be listed and if the number is low, don't worry. These lower numbers of precise individuals with a shared interest will likely give you better results, rather than targeting the millions of people on the social media network. Just remember you need test and optimize campaigns until you find the right balance. More often than not, unique variations on the targeted Facebook grounds end up producing better results than the ones you may have originally considering advertising to. That make this approach one of the best you will find.
This targeted based system is one of the reasons why advertisers have enjoyed Facebook in the past. After all, with these targeted ads in place, advertising funds are better spent, when compared to traditional forms of advertising that might reach a greater number of people, but not produce the same kind of results. After all, you can count on these individuals having some kind of vested interest. At the same time, most fake profiles don't go into enough detail to include these targeted areas, so your funds aren't wasted on gaming accounts and those who are cat fishing on the social network.
Of course, Facebook likes help to spark some interest in your company. When you find that your number of likes is considerable, it will interest others in learning more about your products and services. This is why it is important to get Facebook likes. This can be done through advertising efforts, or you can choose to buy the likes. Around the globe, there are professionals who will sell you a number of likes on your Facebook page. This can be a great to boost visibility and to help you to make an impact early on.
There is no denying that Facebook can be a complex website to advertise on for the novice. However, as you begin to understand how their advertising system works, you can begin to test out new campaigns and find one that is going to help you to reach that next level online