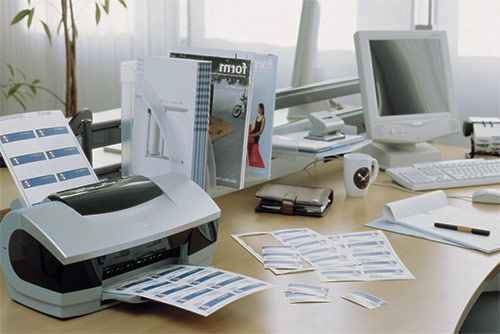 Whether you're starting your small home office, or are getting ready to set up shop in a commercial business, there are some essential equipment your office should have. Small equipment may include computers and their peripherals, a phone and internet network, coffee makers, tables and chairs, desks, things like that. Then you have larger equipment such as a paper shredder, filing cabinets, a refrigerator for your break room, and of course your copy machine.
You have two choices when it comes to obtaining your office supplies, you can either buy or lease them. You have to really think about these choices, because there are pros and cons to both of them. Let's look at both ways, show some of the these pros and cons, so you can decide which one is right for you.
Buying office equipment can be expensive, like copiers, fax machines, and shredders. However you only have to purchase them once, at least until their life cycle is over. How long they last usually depends on how heavily used they are. If you don't have a lot of employees, or they know how to properly use these machines, they are going to last four or five years. Buying brand new means they will have some kind of warranty, so if something goes wrong they can be fixed or replaced. However this warranty doesn't last forever, and once the warranty expires, you have to pay for repairs yourself. As Murphy's law dictates, what can go wrong does go wrong, and will the day after the warranty expires. When purchasing this equipment, if an extended warranty is offered, purchase it. Another advantage is that if you ever have to relocate your office, there is no need to buy furniture and equipment, you just take it to your new location.
On the other hand, leasing your office equipment can be more convenient on a number of levels. It may be a little more expensive since you are making monthly payments on the equipment, but leasing has a lot of advantages. For one you don't have to worry about maintenance and repairs, this is all performed by the company leasing your equipment, even the replacement of ink cartridges or toner. The only thing you have to supply is paper. If there is an emergency, you just call them and they come and repair it. There isn't any long term commitment, so if your business is temporary, or moves around a lot, when your lease comes up you don't have to renew it. Another advantage, you can upgrade your equipment as new technology comes out, without having to buy a brand new one. This is important because copiers, printers, and even paper shredders are constantly upgraded, so the one you buy often becomes obsolete in just a short period of time. So copier lease, printer lease, and leasing other large pieces of equipment is just more advantageous for some businesses.
When looking for copier lease companies, there are some things to look out for. One is that you need a company that is affordable, offers free shipping on their equipment, and offers a regular maintenance schedule. The company you choose has to be on hand when you need them, so if there is an emergency they will come out to fix your equipment immediately, shortening your downtime. They should also have a wide range of products to choose from, that will fit in with your budget as well as your needs. They should also upgrade your equipment at no additional cost as new models become available.
Just like any other piece of furniture or equipment, if you decide to buy, then you need to shop around. While you may find some local retailers that sell office supplies, it is important to go online and shop around. There are many advantages and little disadvantages to shopping online. There are numerous price comparison websites, so you can compare features and prices from different retailers without having to actually go to their site. Business owners are really busy just trying to deal with the daily operations of their company, and often don't have the time to drive around from one retailer to another in order to get the best deal, so shopping online saves time and money. If you have an emergency, then you can order a new or different piece right away, even if local retailers are closed. However there are a few disadvantages to buying online. One of them is that you can't actually see the products you are buying, so you don't know if they are the right fit until they're actually delivered. You also can't talk to someone if you have a question.
Most of the time you can get around this by going to a local retailer, and look at the different types of equipment and furniture available. You can sit on the chairs, see how much space the break room refrigerator has, and actually handle the different pieces of equipment. Another advantage of local retailers is that if you have a question, you can ask a sales associate. What a lot of people do is see what kind of equipment they are looking for, then compare prices online. Because some of this equipment is pretty heavy, you always want to find a company that offers free shipping, whether you buy online or not. If you are looking online, then you have to be careful. You may find a retailer that sells or leases equipment for low prices, only to find that they charge you for shipping. It may be a good idea to pay a little more and have them deliver for free.
If you are looking for copier lease Houston, there is a company you can rely on. This company is E-Copier. They have a large selection of copiers to choose from that will fit in with any budget or size company. Their technical team is manufacturer trained and available to help you 24/7. If you have an emergency, you get a real person on the phone instead of some automated service. Another great thing about this company is that they actually have a brick and mortar store, so you can go in to look at the equipment, talk to a sales associate, and negotiate the best prices before you buy. So for more information or to get started, just go to their website at; ecopierlease.com.